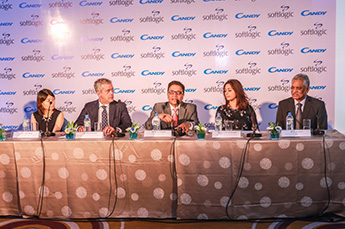 Tue,21 August 2018
Simply intuitive, smart innovation – Simply-Fi your life with Candy
"At Candy we believe in Smart innovation, but only when it's really useful, that's why we've created the smartest, most intelligent and intuitive appliances ever, namely the Candy Bianca washing machine and the Candy Watch and Touch oven. Today we invite you to discover how Candy can help to make your life easier, so you can have more time to do the things you love", said Mr. Massimo Poma, Export Area Manager - South East Asia, Candy Asia Pacific LTD., speaking at the launch of the Candy Watch & Touch Oven & Bianca Washing Machine in Sri Lanka. "With a strong focus on technology and innovation, the Italian based Candy Group is the only household appliance company in the world with the entire range of fully-connected next-generation products; a record that is rooted in its own DNA, that is actually simplifying the life of its consumers by providing them more and more user-friendly, innovative products", said Ms. Joan Wong, Trade Marketing Manager, Candy Asia Pacific LTD., who was also in Sri Lanka very specially for the occasion.
"Softlogic is immensely pleased to launch the latest and most innovative, groundbreaking products from Candy exclusively to our Sri Lankan consumers. In fact, this is the first range of appliances that can actually communicate with you wherever you may be, and all of us at Softlogic are delighted to be associated with Candy on this momentous occasion, where we enable you to 'Simply-Fi' your day with the most complete, up-to-date and connected appliances." said Mr. Nasser Majeed, CEO, Softlogic Retail (Pvt.) Ltd.
Softlogic Retail (Pvt.) Ltd. a fully owned subsidiary of Softlogic Holdings PLC, has been the sole authorized distributor for Candy products for the last 8 years with the Candy range of appliances being made available via the Softlogic island wide store network of 222 Softlogic MAX and Softlogic stores. Softlogic together with Candy have progressively over the years been introducing the latest Candy products to the local market to provide local customers with an unmatched range of world class Italian built kitchen appliances that bring more convenience to their day to day lives. This is yet another step towards cementing the partnership and showcasing Candy's commitment to the local market. "Candy is viewed as Italy's leading brand for home and kitchen appliances; including a wide range of Built-in Ovens, Built-in Microwave Ovens, Free-standing Cookers, Free-standing Dishwashers, Washing Machines, Vacuum Cleaners, Built-in Hoods, Built-in Hobs etc. and we are pleased to launch their latest Watch & Touch Oven and Bianca Washing Machine to our Sri Lankan consumers." said Mr. Shehan Zahir, Assistant General Manager – Product Development, Softlogic Retail (Pvt.) Ltd.
The Candy Simply-Fi Series, namely the Bianca Washing Machine and the Watch & Touch Oven are designed for today's homes and today's lifestyles. For the Candy Group, connectivity and continuous search for innovation are not just an opportunity for being the leader in the household appliances market, but a philosophy that has driven the strategy of the Group since 1945, when it produced the first Italian washing machine. In 2014, Candy introduced on the market Simply-Fi, the world's first range of major, single-application, Wi-Fi connected household appliances.
Explaining the features of the Watch & Touch oven, Ms. Joan Wong explained that "It is indeed 'the kitchen 'game-changer' and is the only oven with an all-Touch Total Control Screen door, an integral HD video camera, exclusive video recipes and 4 different cooking modes. It has even won the Red Dot Award for Product Design this year, considered to be the most important international design award, given over the years to companies of absolute excellence such as Apple, BMW, Google, Bose and the Italian Pininfarina".
With regards to the Bianca washing machine, it is the first washing machine with intuition and advanced features. "It is oh-so-easy to use as Bianca listens, understands consumers' needs, and performs the most effective and most suited washing program to their specific needs. For the first time ever, you can talk to your washing machine with your smartphone, thanks to the 'Talking Bianca' function" said Ms. Wong.  With a natural dialogue and intelligent interaction, Bianca understands individual needs, helps users in choosing the right program, saves their habits, and provides precious washing tips.
As a special promotional offering, Softlogic will make available to customers, special cash discounts up to 35%, as well as up to 60 months interest free installment plans with all leading banks, with low monthly payments on the entire Candy kitchen & home appliance range.  Hire purchase facilities with interest free schemes as well as low monthly payments are also on offer, while customers could look up more attractive offers on www.mysoftlogic.lk. 
Softlogic offers unmatched after sales service for all Candy products sold at Softlogic & Softlogic MAX stores island wide. These products are backed by the Softlogic warranty, guaranteed to 'Simply-Fi' your life!