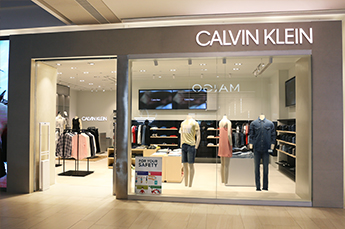 Fri,15 January 2021
Softlogic unveils First ever CALVIN KLEIN Flagship Store in Sri Lanka
Softlogic Brands Pvt. Limited, a fully owned subsidiary of Softlogic Holdings PLC, expanded its foothold in the Fashion Retail space in the country by successfully opening the doors to Sri Lanka's first ever Calvin Klein flagship store at Level 1, One Galle Face Mall, Colombo 02 on the 14th of January 2021.  The new 2600 square feet store features the definitive Calvin Klein Collection for Men & Women designed to accentuate and elevate your look.
Customers can indulge themselves in the pristine selection of marquee brands Calvin Klein has to offer including Calvin Klein Jeans, Calvin Klein Underwear, Calvin Klein Performance and Calvin Klein Sportswear. The Sportswear collection consists of evening/formal wear such as shirts, polos, pants & shoes while Calvin Klein Jeans flips the script with casual jeans, shorts, t-shirts, sneakers, slip-ons & caps, or if Athleisure wear is your fix, the Calvin Klein Performance range is sure to appease your cravings with track pants & t-shirts. The Underwear line needs no introduction as it holds an iconic stance in pop culture and commands mass appeal; we are positive fans are in for a treat. Amidst major hype & fan frenzy for the brand, owing to the fact that EXO's Lay Zhang was a recent addition to Calvin Klein's impressive list of brand ambassadors with the K-pop star joining the ranks of Billie Eilish, Justin Bieber, Shawn Mendes, American actor Noah Centineo as well as South Korean actor Yoo Ah In as Calvin's Klein's ambassadors.
Based off the core design concept of Calvin Klein, the store conveys the brand's minimal, modern aesthetic with a pop of colour and sumptuous materials, selected to enhance the consumer shopping experience. Digital displays are incorporated throughout the store that visually echo the collection for an immersive shopping experience and the staff are both attentive and friendly creating a comfort zone for inevitable regulars. Denim fit guide walls let consumers browse products featured in Calvin Klein's current campaigns and make selections to try on in-store without having to hunt for sizes manually which makes the Calvin Klein store the quintessential shopping destination for the discerning consumer.  
"We are proud to have partnered with one of the most iconic fashion brands in the industry. Calvin Klein needs no introduction." said Mr. Ashok Pathirage, Chairman of Softlogic Holdings PLC at the unveiling of the Calvin Klein store. He further added, "Sri Lanka is transforming into a premier shopping destination for locals and travelers alike, and Softlogic is a key cog in that evolution. Especially when it comes to the fashion retail segment, we have always endeavored to provide a best-in-class retail experience within our stores that resonate with the brand and consumer alike. Today's Opening is yet another milestone reached in our relentless pursuit to offer our consumers nothing but the best of the world's most desired brands."
About Calvin Klein
Calvin Klein is a global lifestyle brand that exemplifies bold, progressive ideals and a seductive aesthetic. We seek to thrill and inspire our audience while using provocative imagery and striking designs to ignite the senses. Founded in 1968 by Calvin Klein and his business partner Barry Schwartz, we have built our reputation as a leader in American fashion through our clean aesthetic and innovative designs. Global retail sales of Calvin Klein brand products exceeded $9 billion in 2019 and were distributed in over 110 countries. Calvin Klein employs over 11,500 associates globally. We were acquired by PVH Corp. in 2003.
About PVH Corp.
PVH is one of the most admired fashion and lifestyle companies in the world. We power brands that drive fashion forward – for good. Our brand portfolio includes the iconic Calvin Klein, TOMMY HILFIGER, Van Heusen, IZOD, ARROW, Warner's, Olga and Geoffrey Beene brands, as well as the digital-centric True&Co. intimates brand. We market a variety of goods under these and other nationally and internationally known owned and licensed brands. PVH has over 40,000 associates operating in over 40 countries and $9.9 billion in annual revenues. That's the Power of Us. That's the Power of PVH.
About Softlogic
Softlogic Holdings PLC is one of Sri Lanka's Largest Diversified Conglomerates with Leading Market Positions in growing economic sectors in Retail, Healthcare, ICT, Automobiles, Leisure, and Financial Services. Softlogic holds Authorized Distributorships for Key Global Power Brands and employs over 11,000 employees at its offices in Sri Lanka and Australia today.