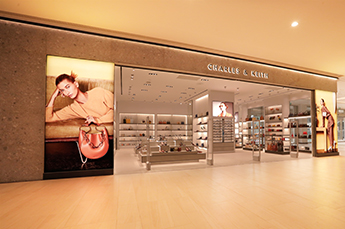 Fri,8 November 2019
SOFTLOGIC ANCHOR TENANT AT ONE GALLE FACE MALL
On 8th November, Softlogic Holdings PLC opened 24 stores spread across 100,000 square feet at the prestigious One Galle Face Mall, making them the anchor tenant at Colombo's newest and most prestigious venue, whilst underlining its position not just as Sri Lanka's biggest retailer, but as the Retailer of the Future. 5 more new stores are soon to be opened in the next few weeks.
"The One Galle Face Mall will most certainly be the destination of choice when it comes to shopping, as it will be 'The' main mall in Colombo, hence our decision to open our doors there", said Chairman Softlogic Holdings PLC, Ashok Pathirage.
Softlogic will occupy a staggering 100,000 square feet at the One Galle Face Mall, with all its stores and restaurants occupying prime positions. "With the availability of these international brands in the local market, we give consumers access to them right at their doorstep, without having to travel overseas to purchase them", said Mr Pathirage. "The entire retail experience at One Galle Face Mall vis a vis our brands is one that is designed to delight the most discerning, jet setting shopper, with international trends being available real time at all stores".
Gourmands have a feast awaiting them with the opening of the Michelin star-awarded culinary brand Crystal Jade Hong Kong Kitchen Restaurant, Singapore's ever famous and one of Asia's most celebrated and diversified restaurant group brands. Crystal Jade is a multi award-winning brand that has preserved the rich traditions of Chinese cuisine, consistently delivering delicious food and impeccable, efficient service. Since the day it first opened its doors in Sri Lanka it has had an unprecedented response and has been packed to capacity, with diners clamouring to be accommodated.
The iconic ODEL department store at the One Galle Face Mall, encompasses a total of 3 floors spanning across 52,000 square feet of stellar retail space. All of ODEL's departments are housed within this store, where there has also been more band width given to Beauty. The three core categories of Beauty, namely Fragrances, Cosmetics and Skin Care have been expanded bringing in a host of fresh international brands. Global favourite kids wear brand, OVS Kids has also been launched within the Kids department at ODEL OGF. ODEL Homes will be stocked with everything and anything your heart desires in order to make your 'home beautiful' a reality, making it a one stop destination for all home needs and an ideal stop over for one's gifting needs. For the first time in Sri Lanka, an exclusive range of bespoke, luxury men's formal outfits by international retail giant Sacoor Brothers will be available at ODEL, ONE GALLE FACE Mall. Sacoor Brothers is a brand based in Portugal and is known for its unique mission of offering 'defining' refinement to those who appreciate elegance. It is set to upgrade the Sri Lankan Men's formal wear market with a whole new, premium and exclusive fashion experience offering up specially tailored suits from the very best of fabrics. 
The plethora of Fashion brands and stand alone stores that Softlogic has at the One Galle Face Mall include apart from the ODEL Department store, Longines, Tissot, Love Moschino, Armani Exchange, Diesel, Furla, Swarovski, Tommy Hilfiger, Mango, Yamamay, Aldo, Charles & Keith, COCO by Cotton Collection, Nike, Skechers, Adidas Originals, Adidas Performance, Mothercare & ELC, The Toy Store and Hallmark. Foodies have a lot to tempt their taste buds, with Softlogic having opened a total of 4 international food and dining brands at the One Galle Face Mall, namely Singapore-based Crystal Jade Hong Kong Kitchen, Burger King, Baskin Robbins and Delifrance all ready and waiting to serve you.
What's more, shoppers can look forward to more iconic fashion brands opening their doors in the mall within the coming few weeks in the run up to the season. Guess, Calvin Klein, Vero Moda and Carpisa would be opening up soon.
Fashion brand Diesel, is a first to Sri Lanka. It is an innovative international lifestyle company, producing a wide ranging collection of premium jeans, other clothing items and accessories. Diesel is not just an apparel and denim: it's a lifestyle known for its quirky and edgy style. Similarly Guess, is a brand which is synonymous with a young, sexy, and sophisticated style and image, it has a wide range of men's and women's clothing and accessories. Internationally renowned The Toy Store carries a diverse range of toys for kids and teens and occupies a whopping 4,978 square feet, while stocking collectibles such as Hotwheels and super hero figurines for the discerning. A welcome addition is well loved, international greeting card giant, Hallmark who will stock a comprehensive range of greeting cards for every conceivable occasion.
Softlogic holds authorized distributorships for key global brands and today employs over 11,000 people in its offices located in Sri Lanka and Australia. At present, Softlogic is the anchor tenant at the One Galle Face Mall at Shangri La where a total retail space of 100,000 sq. ft has been obtained, devoted to delight shoppers with a plethora of exclusive brands and international flavours.