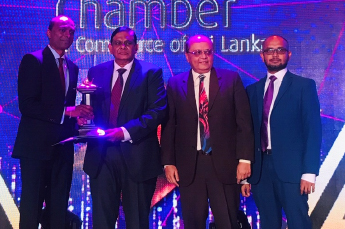 Wed,5 December 2018
Softlogic Life completes victorious 2018 by becoming Sri Lanka's most awarded life insurer
Ending the year on a winning spirit, Sri Lanka's number one health insurer, Softlogic Life, has become the country's most awarded life insurance company in 2018. Softlogic Life rewrote the history books recently after it was conferred with eight prestigious accolades at three of the most prominent industry awards ceremonies in Sri Lanka—National Business Excellence Awards, Annual Report Awards and SLIM Brand Excellence Awards.
While applauding their expertise in disruptive technologies and smart innovations, which has paved a path for state-of-the-art life insurance solutions for Sri Lankans, these industry awards commend the unique brand excellence and fortitude Softlogic Life has displayed during the last few years, ensuring consistency and true commitment for their policyholders countrywide.
Stamping its authority in the life insurance sector, Softlogic Life won the esteemed Gold award in the Overall Insurance Sector at the National Business Excellence Awards (NBEA) 2018, becoming Sri Lanka's number one insurance company for the second consecutive year. Whilst securing the Insurance Gold award, Softlogic Life was able to clinch this award at the 15th edition of this awards ceremony of the National Chamber of Commerce of Sri Lanka (NCCSL), continuing its consistent run of success in Sri Lanka's life insurance sphere.
Softlogic Life posted another outstanding win at the 54th Annual Report Awards by the Institute of Chartered Accountants of Sri Lanka (CA Sri Lanka), bringing home a total of five awards including the coveted Insurance Sector Gold Award. The other awards won were the bronze award for Corporate Governance Disclosure, the bronze award for Management Commentary, the bronze award for Integrated Reporting and the silver award for Integrated Reporting – Best Disclosure on Business Model.
With these five awards, Softlogic Life became the first insurance company to win five awards in the history of CA Awards. Prepared under the theme 'Spirited', Softlogic Life became the first company in Sri Lanka to present its integrated annual report in video format for its key stakeholders via a QR code in the report.
At the SLIM Brand Excellence 2018, Softlogic Life set new benchmarks for the insurance and corporate sector by winning two Silver accolades for 'Local Brand of the Year' and 'Service Brand of the Year'. These awards were presented to Softlogic Life in recognition of its uniquely compelling brand promise of 'Choose your Life', which relates to wellness, fitness and nutrition, and the continuing elevation of standards of Sri Lankans through a range of industry-first services as one of the top home-grown brands of Sri Lanka.
Commenting on these significant industry recognitions, Softlogic Life Managing Director Iftikar Ahamed said, "It is indeed a great privilege for Softlogic Life to be recognized with these industry-leading awards at three of the most prominent award ceremonies of the country. These awards not only stand as a clear demonstration of Softlogic Life's novel offerings as a proud Sri Lankan brand but also the delivery of the promise we have made to commit to excellence in all fronts."
"We also take pride in the fact that our spirited approach has transcended our industry and helped us to stand out as one of Sri Lanka's leading brands. Over the past year, we have continued to take on challenges with enthusiasm in order to deliver winning solutions enhanced by technology. This helped us to bring cost-effective, customer-efficient solutions to the market while reshaping the country's insurance landscape towards a better and more prosperous future for all Sri Lankans," he added further.
Apart from these high-valued local recognitions, Softlogic Life made its presence felt among the Asian insurance giants after making it to the top three insurance companies at the 22nd Asia Insurance Industry Awards 2018. Softlogic Life was the only South Asian Insurance Brand to be shortlisted as a finalist in the in the prestigious 'Life Insurance Company of the Year' category at this year's edition. In June 2018, Softlogic Life bagged the 'Best Life Insurance Company of the Year' and two other country awards at Emerging Asia Insurance Awards 2018, organised by the Indian Chamber of Commerce.
Softlogic Life Insurance PLC is a subsidiary of Softlogic Capital PLC and is part of the Softlogic Group, which is recognised as one of Sri Lanka's most diversified and fastest-growing conglomerates, with interests in Healthcare, Retail, ICT, Leisure, Automobiles and Financial Services. Significant stakeholders in the company also include FMO and DEG, who are rated 'AAA' Development Financial Institutions from the Netherlands and Germany, respectively.